Get ready to cozy up and satisfy your autumn cravings with our delightful Pumpkin Spice and Apple Pie creations, along with a surprising newcomer, the Harvest Toast. Set your calendars for September 1st, because these mouthwatering treats are about to take your taste buds on a journey of fall flavors!

Pumpkin Spice Smoothie: Embrace the Essence of Autumn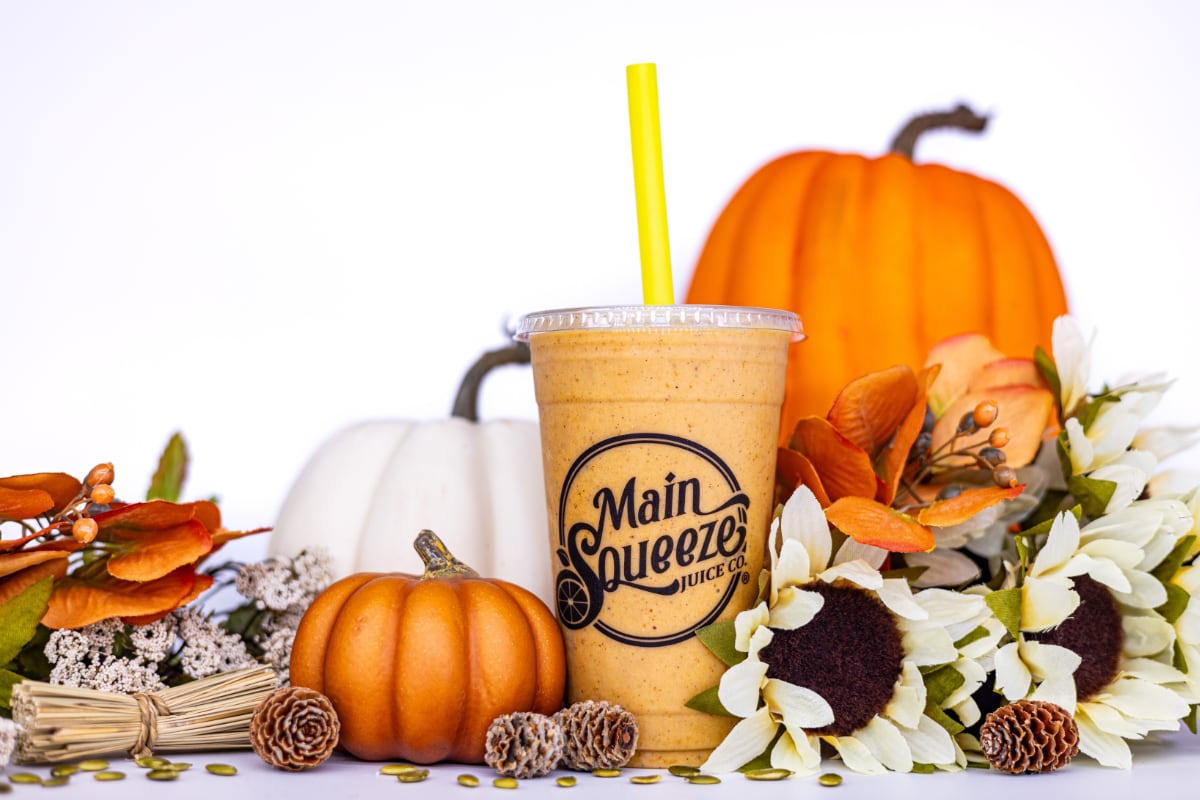 'Tis the season for all things pumpkin, and our Pumpkin Spice Smoothie is here to deliver the perfect blend of comfort and nutrition. Imagine sipping on a smoothie that tastes just like a slice of Pumpkin Pie but is also packed with goodness. Not only does it offer the nostalgic flavor of pumpkin spice, but it also sneaks in over one serving of vegetables. And let's not forget about the incredible benefits of beta-carotene, found abundantly in pumpkin. This smoothie brings a double punch of Vitamins A and C, which are not only known for their immune-boosting effects but also for promoting healthy eyes and skin. Plus, the powerful beta-carotene has even been linked to cancer prevention, making this treat both delicious and health-conscious.

Pumpkin Spice Frozen Latte: A Creamy Delight with a Healthy Twist

Craving that pumpkin spice latte? Look no further than our Pumpkin Spice Frozen Latte. We've taken the classic favorite and given it a delightful twist, making it even creamier and packed with more pumpkin flavor. With the addition of oat milk, this frozen latte is not only a treat for your taste buds but also for your overall well-being. We've incorporated a generous scoop of antioxidants and healthy fats to ensure that your blood flows smoothly and efficiently. The inclusion of almond butter, a rich source of Vitamin E, monounsaturated fat, and iron, is particularly noteworthy. These nutrients play a crucial role in controlling blood sugar, cholesterol levels, and even red blood cell count. So, you can indulge guilt-free while giving your body the care it deserves.

Apple Pie Smoothie Bowl: Fall Flavor with a Protein Punch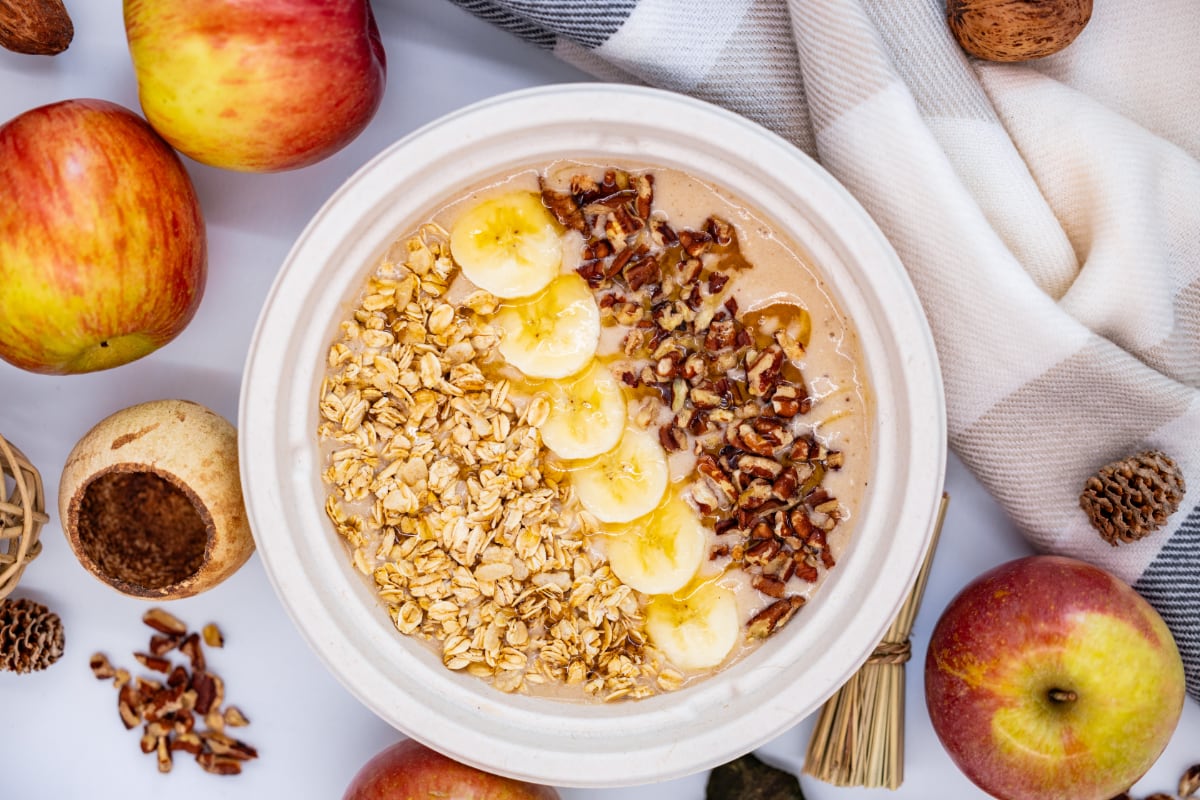 Craving the comfort of apple pie? Our Apple Pie Smoothie Bowl is here to satisfy your sweet tooth and fuel your body with a protein-packed punch. With the perfect blend of apple pie spices and a delightful crunch of granola, this bowl brings together the best of both worlds. Not only will you relish the flavors reminiscent of your favorite fall dessert, but you'll also enjoy the benefits of nearly 20 grams of protein. This hearty dose of protein, along with ample fiber and healthy fats, ensures that your craving is not just satisfied, but you're left feeling nourished and energized.

Harvest Toast: A New Twist on Fall Breakfast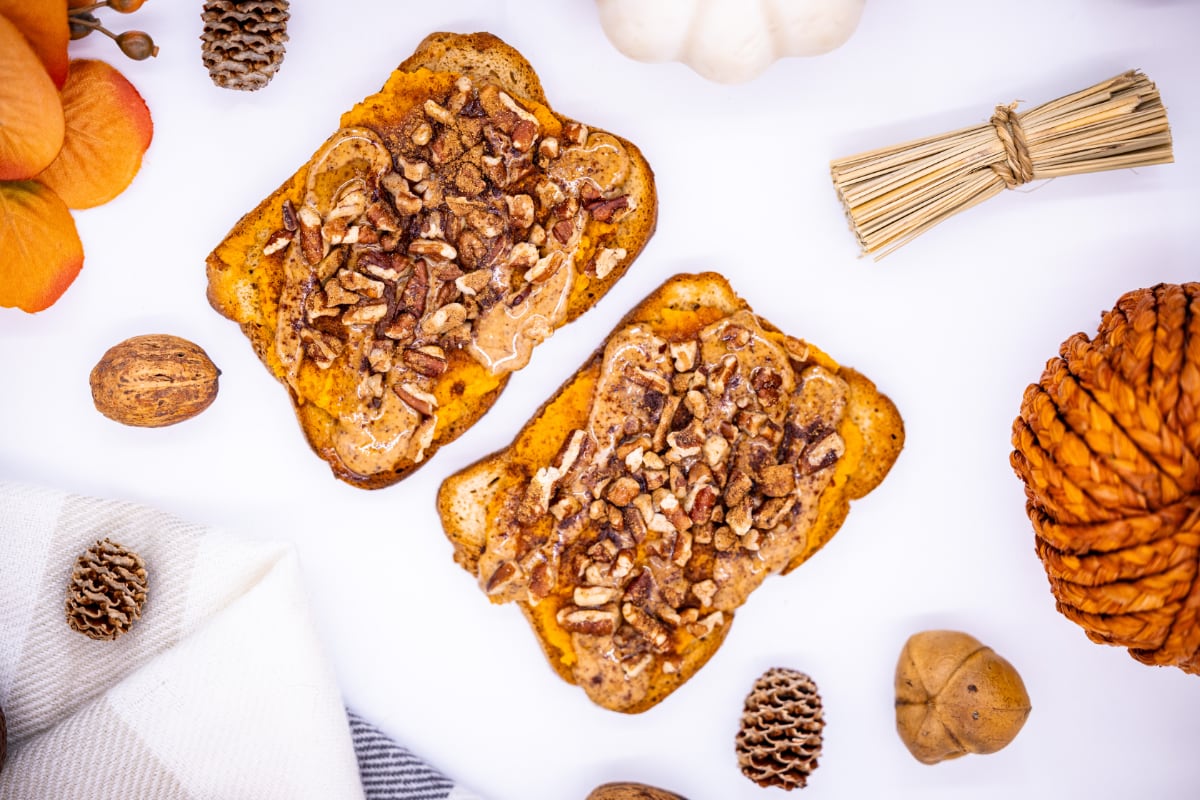 Move over avocados, there's a new toast in town! Introducing our Harvest Toast, the latest addition to our fall lineup that's ready to warm up your mornings. Gluten-free bread toasted to perfection forms the base for a delectable stack of fall-inspired goodness. A luscious spread of pumpkin goodness meets the rich drizzle of almond butter and then comes the satisfying crunch of pecans. Finally, a delicate drizzle of maple syrup crowns this masterpiece. It's a symphony of flavors and textures that promises to make your breakfast an unforgettable experience.

Get Ready to Fall in Love with Fall at Main Squeeze!

With our new Fall line, Main Squeeze is all set to make this autumn season a truly indulgent and wholesome experience. From the Pumpkin Spice Smoothie and Frozen Latte to the Apple Pie Smoothie Bowl and the innovative Harvest Toast, we've captured the essence of fall flavors in every bite and sip. So mark your calendars for September 1st, and join us in embracing the warmth and comfort of autumn like never before. Your taste buds and body will thank you!